Description
Hovall 25 Watt 12 Volt Monocrystalline Flexible Solar Panel
More and more human beings are using solar panels for sale, especially the Flexible Solar Panel, and with good reason. These panels offer so much flexibility and easy to carry, which is not found in other rigid solar panels. You can easily install them at any angle, and they will not take up that much room. This is a perfect solution for those people who want solar power, but do not have enough installation space.
Features:
Reliable Source of Renewable Energy
Fast Charging
Deliver high power output and fast charging capacity.
Up to 20 percent solar cell transformation efficiency.
Light Weight and Ultra-thin
Easy to use, carry, hang and install.
IP67 Junction Box
-20 to 70-degree centigrade Working Temperature
Special Semi-Flexible design.
Use this unit attach to any curved surfaces.
Short Circuit and surge protection technology.
Durable design, water-resistant and long lifespan.
CE, RoHS and FCC certificates.
Custom Made Available.
Specifications:
Typical Electrical Data
At STC: 25℃, 1000 W/m2 and AM 1.5
Model: HT-SP-S120250AA
Short-Circuit Current (Isc): 1.6A
Maximum Power (Pmax): 25 W
Power Tolerance: ±3%
Optimum Working Voltage (Vmp): 18 V
Maximum System Voltage: 600 VDC
Optimum Working Current (Imp): 1.39 A
Maximum Series Fuse Rating: 15 A
Open-Circuit Voltage (Voc): 21.6 V
Mechanical Data
Solar Cell Type: Monocrystalline 125 x 125mm
Connectors: MC4 Connectors
Number of Cells: 36 pcs small pieces
Junction Box: IP67
Panel Dimensions: 540 x 340 x 3mm
Weight: 0.7 KG
Thermal Characteristics
Temperature Coefficient of Pmax: -0.38%/℃
Operating Module Temperature: -40℃ to +90℃
Temperature Coefficient of Voc: -58.9 mV/℃
Nominal Operating Cell Temperature (NOCT): 45±2℃
Temperature Coefficient of Isc: 2.6mA /℃
MC4 Connectors
Rated Current: 30 A
Temperature Range: -40ºF to 194ºF
Maximum Voltage: 1000 VDC
IP Rating: IP 67
Junction Box
IP Rating: IP68
Output Cables: 2.5 mm2 (90cm long)
Number of Diodes: 1 Diode(s)
Module Diagram
IV-Curve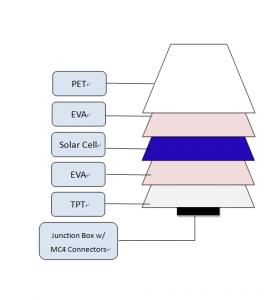 If you are interested in our solar panels for sale, please contact us at info@hovall.com.