Description
Hovall 54 Watt 12 Volt Monocrystalline Flexible Solar Panel
Wanna the best solar panel cost? this is your best choice -Hovall 54W 12V Mono-crystalline Flexible Solar Panel.
Features:
Smart and environment protection.
Corrosion Resistance.
Fast Charging, this Hovall solar panel delivers the high power output and fast charging capacity.
High transformation efficiency, the Monocrystalline silicon efficiency can up to 20 percent.
Lightweight and thin, so it is easy to use, carry, hang and install.
Use this unit attach to fit any curved surface for Boat, RV, Sleeper Cab, and any other mobile unit's battery.
The junction box with diodes, safety protection.
The Charging temperature is -20 – 70-degree centigrade.
Flexible Solar Panel, A maximum 30 degree arc bendable.
Short Circuit and surge protection technology keep you and your devices safe.
Durable design, water-resistant and long lifespan.
CE, RoHS and FCC certificates.
Can be customized.
Specifications:
Typical Electrical Data
At STC: 25℃, 1000 W/m2 and AM 1.5
Model: HT-SP-M1205000AA
Short-Circuit Current (Isc): 3.3A
Maximum Power (Pmax): 54 W
Power Tolerance: ±3%
Optimum Working Voltage (Vmp): 18 V
Maximum System Voltage: 600 VDC
Optimum Working Current (Imp): 3 A
Maximum Series Fuse Rating: 15 A
Open-Circuit Voltage (Voc): 21.5 V
Mechanical Data
Solar Cell Type: Monocrystalline
Connectors: MC4 Connectors
Number of Cells: 36 pcs (4 x 9)
Junction Box: IP67
Panel Dimensions: 620 x 540 x 3mm
Weight: 0.98 KG
Thermal Characteristics
Temperature Coefficient of Pmax: -0.42%/℃
Operating Module Temperature: -40℃ to +90℃
Temperature Coefficient of Voc: -66.2 mV/℃
Nominal Operating Cell Temperature (NOCT): 45±2℃
Temperature Coefficient of Isc: 2.0mA /℃
MC4 Connectors
Rated Current: 30 A
Temperature Range: -40ºF to 194ºF
Maximum Voltage: 1000 VDC
IP Rating: IP 67
Junction Box
IP Rating: IP68
Output Cables: 2.5 mm2 (90cm long)
Number of Diodes: 1 Diode(s)
Module Diagram
IV-Curve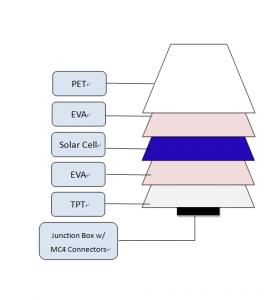 Do you want to get a good solar panel cost? Just contact us at any time info@hovall.com