Description
Hovall 20 Watt 12v Foldable Solar Battery Charger with Dual USB Port
This Hovall 20W 12v Solar Battery Charger is one of the most innovational technologies of today. This rings true for so many reasons. Once, use solar panels to charge the battery were just an idea, but now the solar panel powered charger has exploded and many new DIY solar chargers or solar systems are selling in the market, especially the 1.5 watt, 5 watt, 15 watt, and 10 amp solar trickle chargers for RV, Car, Harbor Freight and Dump Trailer are the most popular.
Integrated Molding Technology, Slight Curves Available.
Environmental protection, free solar power energy from the sun, go green!

High transformation efficiency, our Sunpower monocrystalline silicon efficiency can up to 25 percent.

Special Foldable design, make it easy to use, carry, hang.
Wide application, suitable for iPhone, Smartphone, Power Bank, and other USB devices.
The Charging temperature is -20-70 degree centigrade.
With Overcharge Protection keep you and your devices safe.
High Durable, water-resistant and long lifespan.
CE, RoHS and FCC certificates.
Can be customized.
Specifications:
Maximum Power Voltage (Vmp): 5V
Maximum Power Current (Imp): 4A
Output: Dual USB 5V or 12vdc
Unfolded Size: 550mm x 260mm x 3mm
Folded Size: 260mm x 160mm x 35mm
Net Weight: 0.8KG
Package Include: 20W Solar Panel Charger x 1pc, Suction Cups x 8pcs
Specifications:
Typical Electrical Data
At STC: 25℃, 1000 W/m2 and AM 1.5
Model: HT-SC-S0502000AF
Short-Circuit Current (Isc): 4.4A
Maximum Power (Pmax): 20 W
Power Tolerance: ±3%
Optimum Working Voltage (Vmp): 5 V
Maximum System Voltage: 600 VDC
Optimum Working Current (Imp): 4 A
Maximum Series Fuse Rating: 15 A
Open Circuit Voltage (Voc): 6 V
Mechanical Data
Solar Cell Type: SunPower 125 x 125mm
Output: Dual USB 5V 2.1A
Number of Cells: 36 small pieces
Net Weight: 0.8KG
Folded Dimensions: 260 x 160 x 35mm
Operating Temperature: -40℃ to +90℃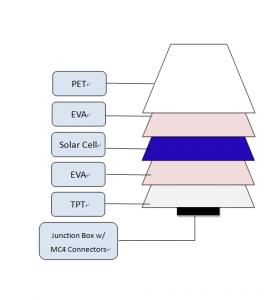 If you have any questions regarding this solar battery charger, please contact us at info@hovall.com